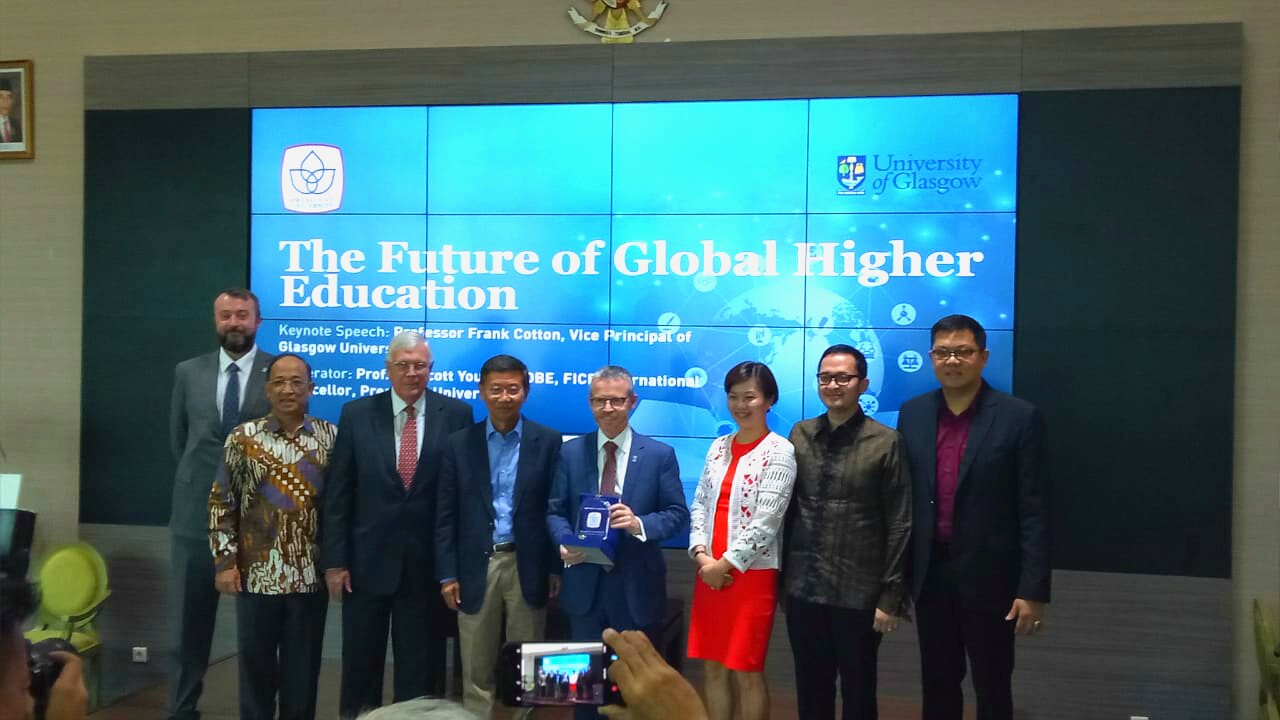 JAKARTA, September 4, 2018 – University of Glasgow, UK, has made another visit to Indonesia, represented by Prof. Frank Coton as the Vice Principal, who spoke on "The Future of Universities in Facing the Industry 4.0" held at President Lounge, Menara Batavia.
Prof. Frank Coton attended the event to honour the invitation from Dr. (HC) S.D. Darmono as the Chairman of Jababeka Group, who was recently awarded a Doctorate degree (Hon. Causa) from the University of Glasgow. This event was also a part of Mr. S.D. Darmono's concerns on the future development of Indonesia's human resources.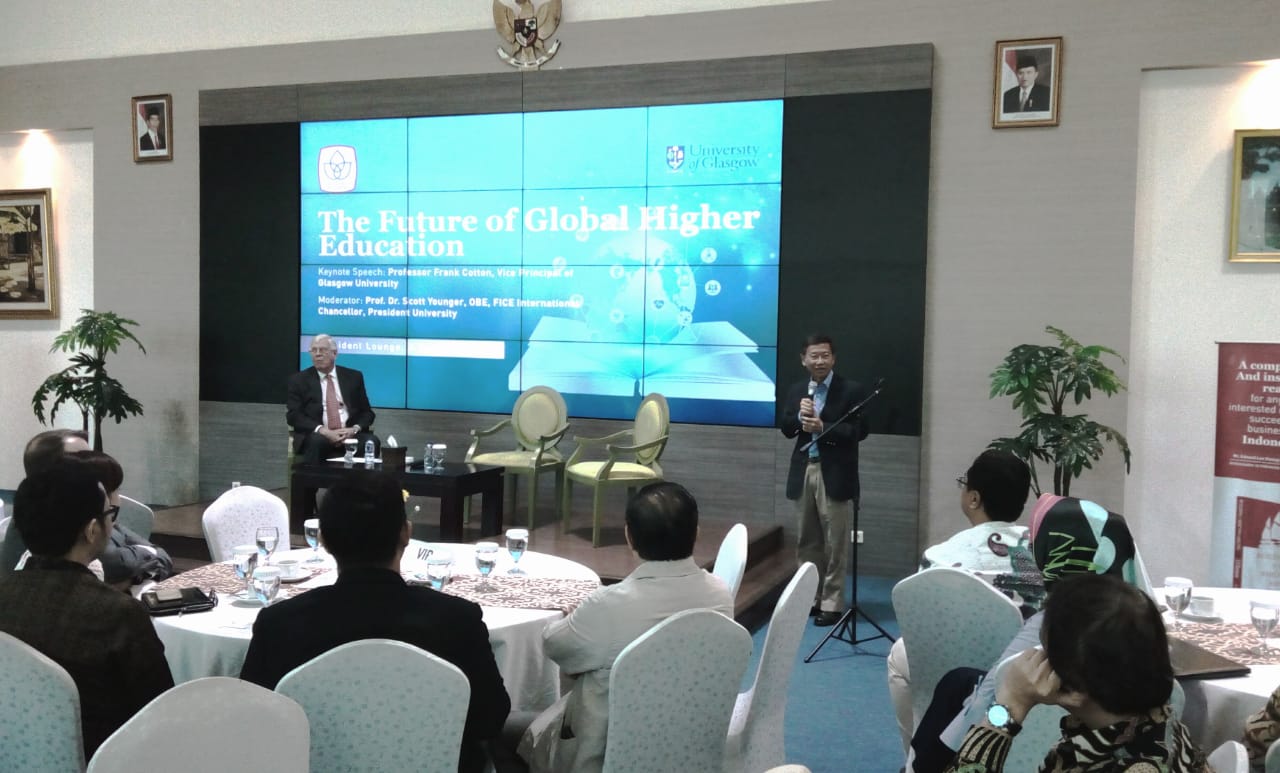 The day's event was held to sustain the mission of President Joko Widodo, who recently launched the MAKING INDONESIA 4.0 Campaign in April 2018. MAKING INDONESIA 4.0 is a commitment of Indonesia in entering the digital era to reach the Industri 4.0, to develop the manufacture industry ready to face the global competition, in order to build Indonesia's industry into the fourth industrial revolution era and also to thoroughly revitalize the national industry.
"University of Glasgow is the world's 4th oldest university in the UK established in 1451. It is also a historical place where the inventor of the steam engine, James Watt, and the expert of the Capitalism Theory, Adam Smith, dedicated their expertise," says Dr. John Scott Younger, OBE, FICE as the Honorary Research Fellow from the University of Glasgow, who also serves as the International Chanchelor of President University.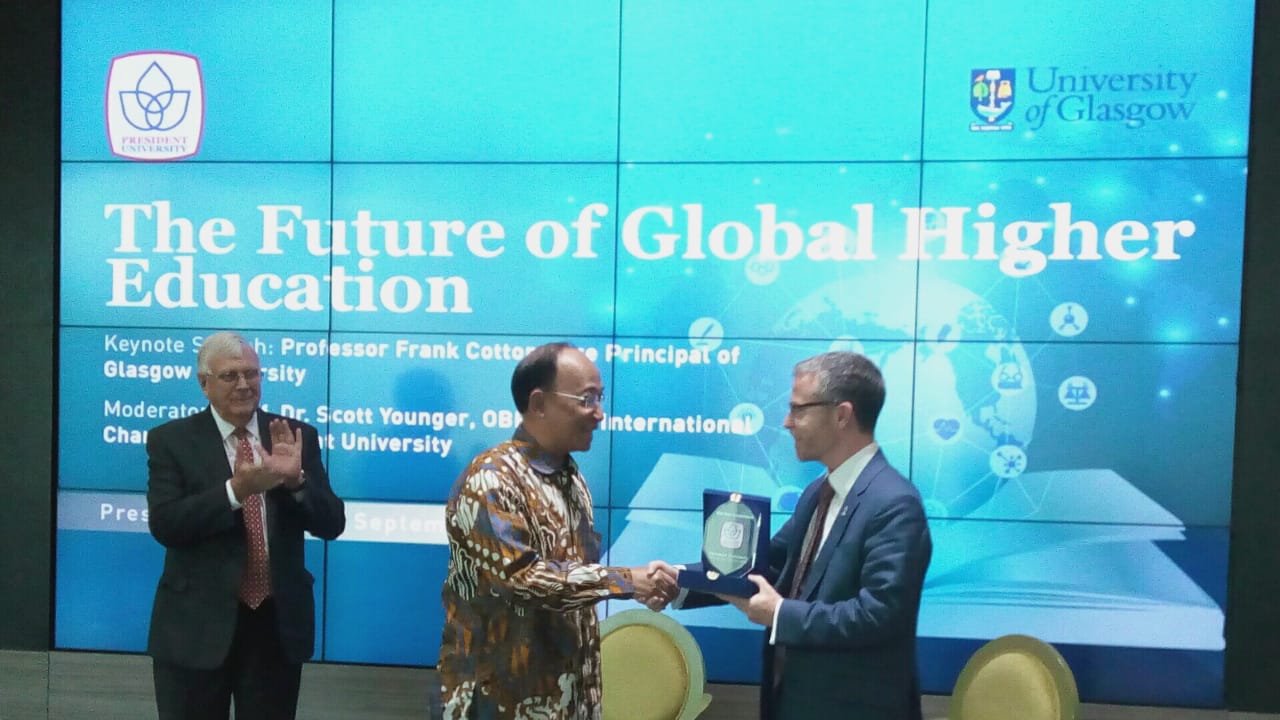 Dr. Scott adds, the University of Glasgow has an active role in the world's current development of civil engineering and infrastructure, and also in many of the inventions in the fields of science, medicines, and mechanical engineering.
Meanwhile, President University, where Mr. S.D. Darmono is the Founder, is an international standard university whose Medium-of-Instructions is English. President University is located in Jababeka Industrial Zone, which is the largest industrial zone in Indonedia where 1,700 multinational companies from USA, Canada, Germany, UK, France, The Netherlands, Italy, China, Korea, Japan, Taiwan, Malaysia, Singapore, and Australia are located.