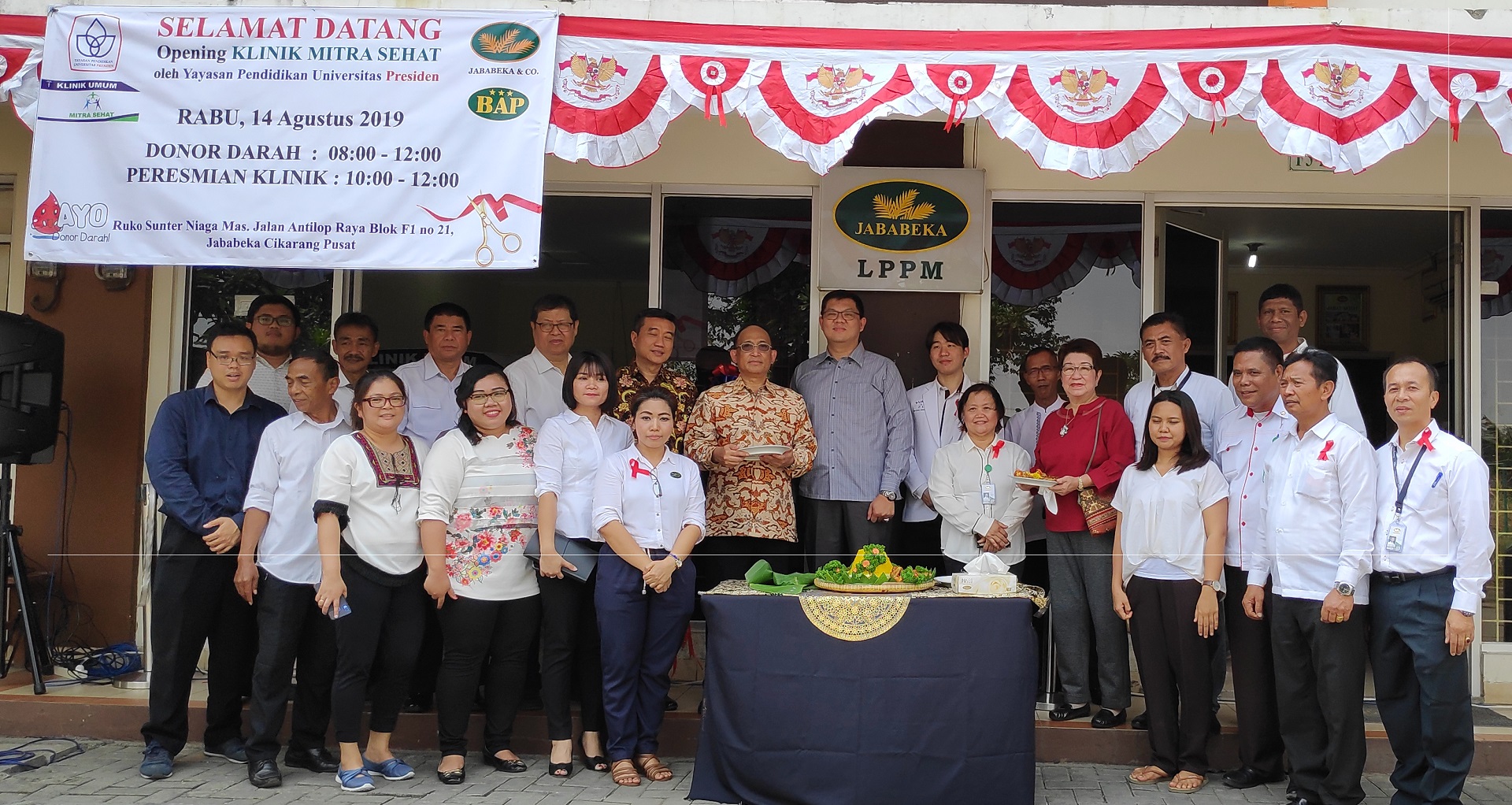 Cikarang, 14 August 2019. President University Foundation held the opening ceremony of Mitra Sehat Clinic on 14 August, 2019. The opening of the clinic located at Jl. Antilop Raya, Ruko Sunter Niaga Mas Blok F3 No 21 Jababeka, Cikarang Pusat, was attended by the Chairperson of President University Foundation and its staffs, the Rector of President University, the staffs of President School, and the staffs of PT. Bima Adikarya Persada.
Prof. Dr. Ir. Budi Susilo Soepandji as the Chairperson of President University Foundation stated the importance of the social function of Mitra Sehat Clinic, especially within the surrounding community. He also looks forward to active participations from President University students in organizing social activities that involve the clinic in order to optimize its coverage to the patients who need access to health service.
The agenda started off with blood donor. Afterward, the Chairperson of President University Foundation officiate the opening of Mitra Sehat Clinic that ended with cutting tumpeng as a symbol of gratitude for the operation of the clinic.
"The purpose of the operation of this clinic is (in alignment) with Corporate Social Responsibility (CSR). Therefore, we aim for lower middle class and poor people to have access to health facilities. We also offer cheap medical treatment, even free, and mass medical treatment," said dr. Edy Surya Kurniawan as the person in charge of the clinic.
In the future, Mitra Sehat Clinic will continue to provide health services to the community, especially among PT. Jababeka Tbk. foster villages. Diane Dhamayanthi as the CSR Advisor at PKBM Modeslavidi added, "Free medical treatment for each village may be held once every two weeks."
With the establishment of Mitra Sehat Clinic, President University Foundation along with PT. Jababeka Tbk. hope that people from all background can get affordable health access. They also hope that President University students can partake in expanding the operation of Mitra Sehat Clinic through community services that involve the clinic.