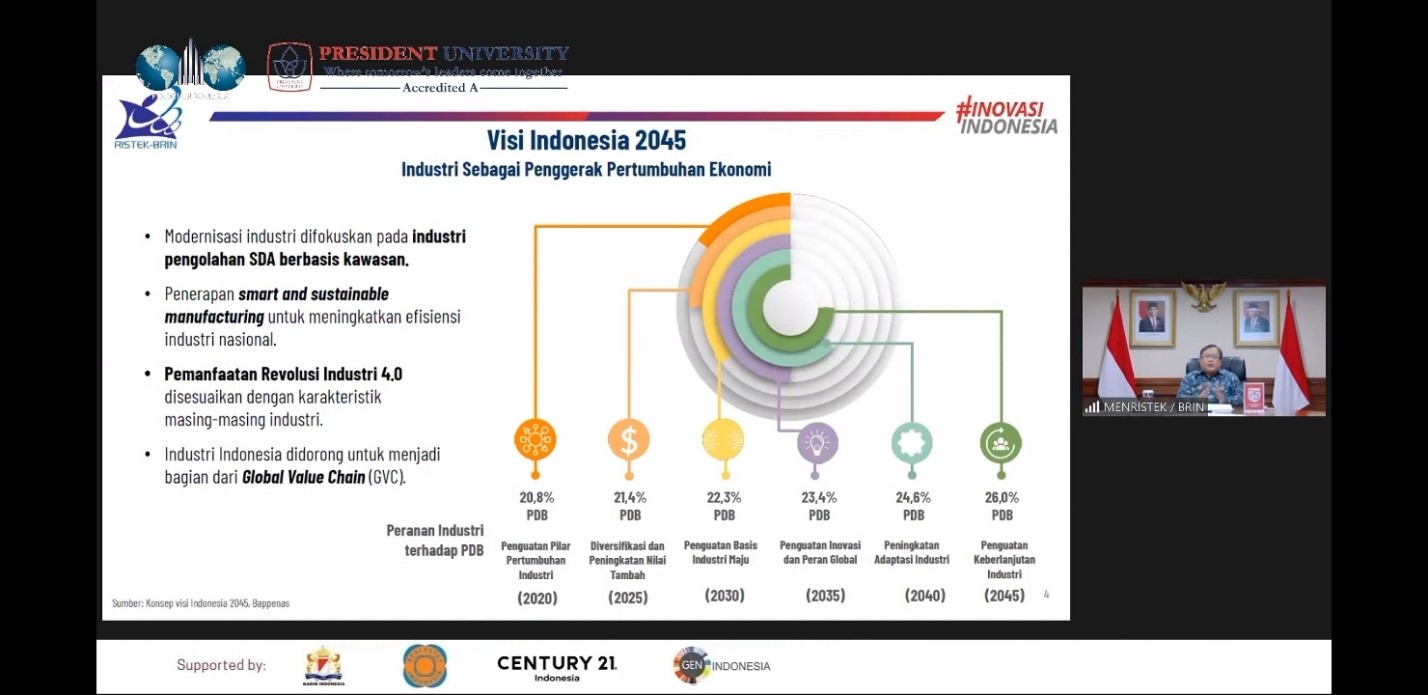 This pandemic has affected our economy so badly. Based on Badan Pusat Statistik (BPS), Indonesia's economy sector development in the second phase is decreased by 5.32 percent. But, this problem can be recover as Indonesia has managed to develop the economy digital and innovative technology into the next level. One of the ways is to grow the ecosystem needed such as the availability of the infrastructure for the digital economy era as well as on the economy digital technical guidance for the millennials/young generation.
–
As the development of Indonesian Silicon Valley gotten rise, President University in collaboration with FIABCI Indonesia holds a webinar named President University and FIABCI Indonesia Joint Webinar Series themed "Do we need an Indonesian Silicon Valley?" on Wednesday (12/8) via Zoom meeting platform and Youtube streaming. It was opened remarkably by The Chairperson of President University Foundation, Prof. Dr. Ir. Budi Susilo Soepandji and The President of FIABCI Indonesia, Budiarsa Sastrawinata.
–
The first panelist, Sandiaga S. Uno, emphasizes three ingredients for us as our foundation to reach our dream of Silicon Valley in Indonesia. The first is growing a very strong entrepreneurial culture of innovation, risk-taking, as well as being proactive. The second is applying a collaborative ecosystem of industries, universities, innovators, and fund providers. The last one is becoming a melting pot of global and local talent diversity.
–
Later, Dr. Ing Ilham Akbar Habibie, The Chief Executive of National ICT Council added that one of the key successes of Silicon Valley is called Three T. The first T stated for Talent, followed by Technology and Tolerance or culture and mindset.
–
In terms of the location, Sutedja S. Darmono, Director of PT Jababeka Tbk., agreed with Dr. Ilham that says talents, technology, culture, and mindset are the major key successes of Silicon Valley. "I agree with Dr. Ilham's opinion about the Three T. That's why Jakarta eastern corridor has a big potential since there is already 9 major infrastructure progression that is very crucial to support the Silicon Valley development," he said. On top of that, Jababeka has developed infrastructures such as education, hospitality, and industry that is very important for the Silicon Valley foundation.
–
Lastly, Prof. Bambang P. S. Brodjonegoro, The Indonesian Minister of Research and Technology, supports the planning of Indonesian Silicon Valley as well as hoping that Indonesian people wouldn't only be a customer instead of becoming the creator. "The key components are smart and sustainable manufacturing as so far the composition of Indonesia's manufacturing industry is still too simple or lack of technology and innovations which is very crucial for making an Indonesian Silicon Valley. Therefore, we must support small technology-based entrepreneurs in Indonesia both mentally as well as resources," he added.
–
The webinar is joined by more than 1000 viewers in calculated from both Zoom and Youtube platform. They were coming from different industries, academicians, real-estate business players and other professionals. According to President University's News Article, the webinar was attended by S.D. Darmono, D.Univ. (Hon) (Founder President University and Jababeka), Prof. H. Ermaya Suradinata (Chief Advisor of President University Foundation), Dr. Chairy (Secretary of President University Foundation), and Prof. Dr. Jony Oktavian Haryanto (Rector of President University), also the notable real estate practitioners namely Meiko Handoyo (Senior Director of Ciputra Group dan Vice President FIABCI Indonesia), Rusmin Lawin (Vice President of REI and President of Strategic Planning Committee of FIABCI Indonesia), Hadi Cahyadi (Commissioner of PT. Lippo Cikarang), and Edy Sanjaya (CEO Era Ascot).
—
Writer : Emmanuel Felix