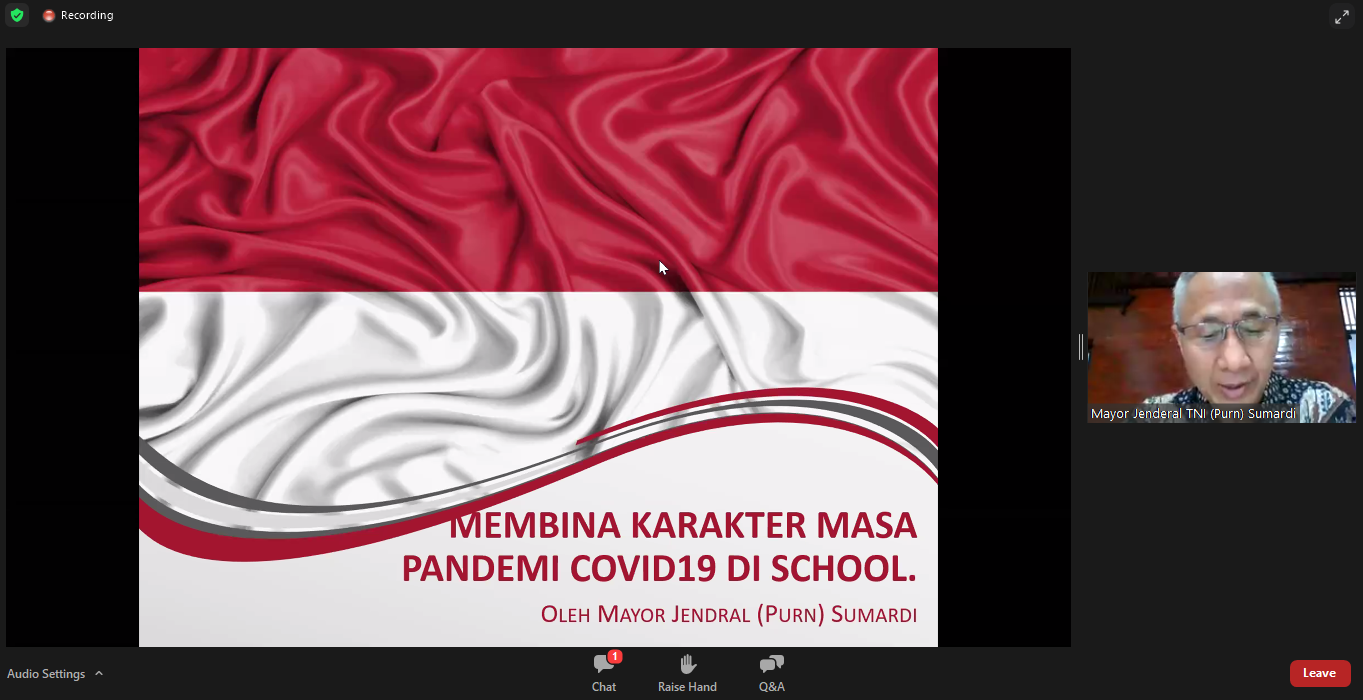 Online Learning has been our education culture in these past few months. Many schools especially those in the villages have to face obstacles and challenges such as unstable and unavailability internet connection, lack of internet/digital devices, lack of facilities to support online learning, lack of knowledge on using digital devices, and many more. Yet, those are some of the Indonesia Government's homework to improve our education system when the online study progresses during the pandemic.
–
In response to this situation, President University holds a webinar-themed "Indonesia Education Challenge: Building Character in Social Distancing and Online Learning." on Friday (09/10) via Zoom meeting platform. "Hopefully, this webinar could help our generation to have a good character for the future of our country," said Mr. S. D. Darmono, The Founder of President University Foundation as he remarkably opened the webinar.
–
The first presenter was Adamas Belva, CEO of Ruang Guru. He is an alumna of SMA Presiden batch I who had to succeed in creating as well as building the best online learning platform in Indonesia currently. Apart from Indonesia, Ruang Guru also has been introduced and successfully ran in many Southeast Asia countries such as Vietnam and Thailand.
–
In this opportunity, he presents three main points of what they have done to support Indonesia's education during the pandemic. First, Ruang Guru had provided free online classes across Indonesia as it can help students and learners to adapt to the online learning system and increase their study motivation. Second, Ruang Guru also had provided free teachers online class training and has reached thousands of teachers across Indonesia. Third, Ruang Guru has been prepared online learning facilities without requiring any internet connection which is only by using a USB/thumb-drive. "We have to keep learning whatever the situation is. Schools might be closed but learning mustn't stop," he closed.
–
Besides, Andrew James, Senior Principal of Populous, see this pandemic as an opportunity rather than merely a threat. "We should see this pandemic as our opportunity to learn through creativity about something we haven't had time to do and the opportunity to build better relationships with our families," he said. Mr. Andrew James is also an architect who has a project whose purpose is to bring about the Javanese culture in a form of buildings as well as the environment in Tanjung Lesung, Banten.
–
On the other hand, Kristanto Santosa, Co-Founder PQM Consultants, states three characters that people need in the future. First is Resilient, the capacity of a human to recover quickly from difficulties. Whether students or professionals, both need to have this. Second is Innovative, the dynamic changes of our universe require us to be able to be innovative. The last is Trustworthy, this pandemic requires us to become a trustworthy individual because if we can do that people will respect us.
–
Then, Mayor Jenderal TNI (Purn) Sumardi, one of the PU Foundation officials who currently served as the advisor of SMA Presiden present as the last panelist. He encourages parents to guide, teach, and educate their children started with moral education, critical thinking, and followed by spiritual guidance during this pandemic. "The role of parents is very crucial nowadays, the way they teach and educate their children will affect their child's' development while studying at home," he stated.
—
Writer: Emmanuel Felix